Welcome To Road To Recovery Therapy
For all your aches, pains and injury needs; no matter what your age, profession or sporting ability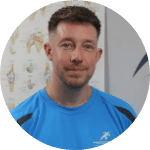 Road To Recovery Therapy offers a wide range of remedial therapies tailored to individual's needs, specialising in the treatment of Musculoskeletal (MSK) and Orthopaedic Complaints. Our Pain & Injury Management Clinic based in St Neots, Cambridgeshire provides Patients with a comprehensive treatment and rehabilitation process, from consultation, to assessment, physical treatment, educational advice and integrated rehabilitation and recovery plans.
We provide solutions for people who are looking to improve their overall physical well-being, whether it be to address ongoing back pain, correct joint dysfunction, improve mobility limitations, recover from an injury, improve training performance, correct postural imbalances or remedy general aches and pains caused from daily living. We want to ensure that every Patient leaves our clinic feeling their best.
The treatments and services which we provide are designed to help individuals get back to optimum levels of function, occupation, sport-specific fitness and free of pain as quickly as possible. We work with Patients from all walks of life, helping with sufferers of acute injuries, to chronic pain, and minor day-to-day niggles. We treat Professional Athletes to Senior Citizens and everybody in between. We pride ourselves on treating all Patients with the same dedication and care, no matter what the issue. It's not just Athletes that obtain injuries and experience pain, but a vast majority of the general population too.
Feel Better, Move Better, Perform Better, Be Better
#BeTheBestYou
Sports & Remedial Massage Therapy
For aches, pains and discomfort, increasing mobility and reducing the risk of injury. Treatment sessions from just £35.
Perfect for
Aches, pains & stiffness, muscular tension & spasms, injury prevention and recovery, increasing mobility and for general soft tissue and joint maintenance.

What to expect
Sessions consist of an initial consultation, postural / movement assessment, special testing and treatment using a combination of Sports Massage and Soft Tissue Therapy techniques.
Initial Consultation – £55      60 Minute Follow Up – £50      
45 Minute Follow Up – £45     30 Minute Follow Up – £35 
Injury Therapy & Rehabilitation
For acute injuries or chronic conditions, offering injury assessment, treatment and rehabilitation. Suitable for everybody, 'sporty' or not.
Perfect for
The treatment and rehabilitation of musculoskeletal injuries acquired at work, through daily living, sport specific or as a result of an accident.  
What to expect
Sessions consist of an initial consultation, in-depth assessment, postural / movement screening, special joint and muscle testing and treatment using a combination of advanced Sports Massage & Soft Tissue Therapy techniques, Medical Acupuncture, Kinesiology Taping, Corrective / Remedial Exercise and Rehabilitation Programmes.
Initial Consultation – £55        
60 Minute Follow Up – £55     30 Minute Follow Up – £40 
Medical Acupuncture (Dry Needling)
Helping to reduce pain, promote healing and aid with recovery from injury. Treatment sessions from just £35.
Perfect for:
The treatment of musculoskeletal (MSK) pain and injury. Helping to increase range of motion, decrease muscular tightness, reduce pain, promote healing and aid with recovery from injury.
What to expect:
Sessions consist of an initial consultation, postural / movement assessment and treatment using a combination of Medical Acupuncture, Sports Massage and Soft Tissue Therapy techniques.
Initial Consultation – £55        
60 Minute Follow Up – £50     30 Minute Follow Up – £35 
Initial Consultation & Assessment
Our initial consultation offers patients the opportunity to have an injury or complaint throughly assessed and provides appropriate rehabilitation and management advice.
The initial consultation is vital for us to understand you; your medical history, any previous injuries, your present injury and/or pain, how you move and how your injury/pain is affecting your day to day life so that we can build a tailored treatment plan specific to your needs.
Follow up sessions will be advised accordingly.
Initial Consultation 60 Minutes – £55
What is Soft Tissue Therapy and how can it help?
Soft Tissue Therapy is a form of 'hands-on' manual therapy which primarily deals with the muscles, tendons, ligaments, joints, nerves, skin and connective tissues which surround our bodies. It derives from Sports & Remedial Massage Therapy and has evolved into more than massage alone. Soft Tissue Therapy uses a wide variety of techniques to assess, prevent, treat and rehabilitate an injury or condition, whether it be acute or long-standing. Soft Tissue Therapists utilise massage, advanced soft tissue techniques, corrective exercise and movement re-education in order to reduce pain and discomfort, improve mobility and joint range of motion, optimise performance, alleviate dysfunction and rehabilitate an injury using a methodical approach. We aim to treat the root cause of a problem rather than just the symptoms and work with patients to achieve long-term improvements to their overall well-being.
Soft Tissue Therapy is an extremely effective solution to help reduce aches, pains and discomfort, and correct imbalances caused from intense training programmes, through to everyday activities. It can be a huge benefit to people from all walks of life, whether their pain or injury is sports, work or lifestyle related. We see numerous office workers in pain due to leading sedentary lifestyles at work. Builders and manual workers with dysfunction from years of wear and tear. Senior citizens struggling with mobility, and exercise enthusiasts with common overuse injuries. All of which can be rectified and corrected with the aid of Soft Tissue Therapy and Injury Rehabilitation.
Whether you take part in sport or not, Soft Tissue Therapy can help you!
Happy Patients
"I woke up on a Sunday morning unable to move my neck and in a lot of pain. I made contact with Luke and he came over that evening. I suffer with arthritis and hypermobility, so Luke took the time to access what he needed to do to help me. The massage was firm but nice and he managed to get a lot more movement back in my neck by the time he left. He is really professional and cared about helping me. Normally if my neck locks up I would suffer for months but with Luke's care it was a lot better within a few days and I would recommend him to anyone."

JULIE GOODWIN • ALCONBURY
"I came to see Luke after receiving an injury whilst playing 6 aside football, I was having trouble walking as my quadriceps were causing me a lot of Agro. During the session with Luke he was comforting and professional making sure that he was applying the correct pressure to ensure that I was comfortable. A week after the treatment I was back playing football without any agro in my legs. I would highly recommend Luke to all of my friends and family for any sport related injuries, not only because he is good at fixing your problems, but he is one of the most professional sports therapists I have met."

MATHEW ALLCOCK • BIGGLESWADE
"Since having an Extensor Brevis transfer operation to my right ankle in 2010, I have suffered pain to various degrees, particular after any form of work, exercise or walking. Discovering the care that Luke can give has given me both relief from the pain and hope that I do not have to live with such disability affecting my mobility in the future. The treatment has been very effective and professionally applied by Luke. I am now on a monthly maintenance cycle and could not be more happy to continue this, as I feel great improvement is being made. I would thoroughly recommend "Road to Recovery" to anyone."

JOHN PURCELL • BEDFORD
"With less than two weeks to go until I attempted a marathon, I twisted my knee and was panicking that I wouldn't be able to run. I booked a massage on my legs and Luke Wooding was exceptional in providing his service. Attentive and understanding, he talked through my needs and what he was doing, afterwards I left feeling so much better. I swiftly received a follow up email detailing specific stretches and exercises to do to help me further – they were a huge help. A week later I had another massage to ensure as much tightness in my legs had gone as possible – it had and I managed to complete the marathon. This wouldn't have been possible without the massage. Personable and knowledgeable. Thanks Luke."

MARIE TODD • ST NEOTS
"I highly recommend popping in to see Luke for a massage, I personally have a complicated history of injuries and don't always feel confident in putting my trust in a therapist, but I can honestly say my massage was fantastic, totally tailored to my needs, I was given great advice, information to help me and I will definitely be going back very soon for another session."

NICKI CROCKETT • ENFIELD
"I have had shoulder and neck pain a long time due to an injury some time back. After seeing Luke I can honestly say I have never felt so much better. I am definitely now on the Road to Recovery. Luke identified the problem and worked so hard to get the knots and pain out. Thank you so so much Luke you did amazingly. Highly recommend"

RYAN WILSON • SHEFFORD
I have been suffering with hip pain since February 2019, causing me pain and sleepless nights. Luke thoroughly assessed me and after only 3 sessions my hip has improved dramatically. He is passionate and committed practitioner, communicates well and is totally focused on the best outcomes for his patient. I would highly recommend him. I can't thank you enough

SHARYN BAINS • ST NEOTS
I have been having pain and injury management with Luke for the past few months regarding chronic shoulder pain and Bicep Tendonitis. After recently having 3 Dry needling sessions, I am glad to say I am now pain free. Luke is always professional and on hand to give advice over the phone. He is exceptionally knowledgeable and always puts you at ease. I would like to thank Luke for his continued help and support

MANDY JACKSON • ST NEOTS
Associated With
We are affiliated with a number of industry leading Professional Associations and local Healthcare Professionals, including Physiotherapists, Osteopaths, Councillors, Personal Trainers and Yoga Instructors. Ensuring that we provide our Patients with the best possible treatment and care from start to finish.
Blue Light Discounts Available